Welcome!
Do you come here often, or are you a brand new friend?  
Check out my Bio page if you want to get to know me better.
     Like my music?  Click on the Music link, watch some concerts and songs on my YouTube channel or go to Facebook 
Here's what's going on at the moment:
I celebrated the beginning of Spring with a house concert on Facebook live as well as on YouTube. Have a look and listen.  A huge thank you to Skip Trask for such excellent sound and camera work!! My fall concert from August 20 is on YouTube, also thanks to Skip, as well as on my channel!
Here is what the room looked like for this set-up!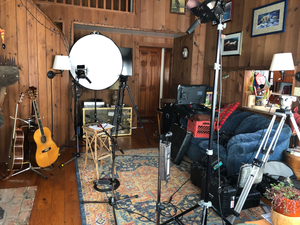 I have started recording a new CD/album/record of new tunes and plan to have it finished this summer. Several of these are included in both concerts above.
 
My previous CD is called Sleep Like Fish! and it's available online through  CD Baby, Apple Music, Spotify, etc. or in local stores in Mount Vernon, Ohio - you can hear the songs on the player at the bottom of this page.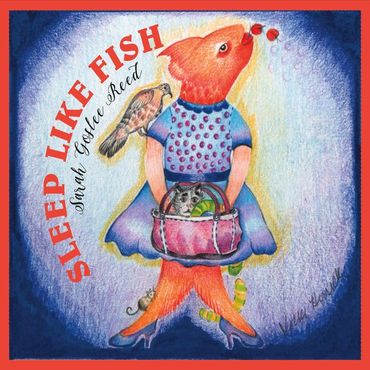 I have another CD from my duo Goslee Reed and Kean - this is a live show from the Quarry Chapel in Gambier, Ohio - you can hear them on the player too!
 
In the fall of 2016, I received a lifetime achievement for supporting the arts in my community - what an honor and lovely surprise!
 
Listen to my song "Feed the Right Wolf" .  It has been sung by the Heritage Singers, an a capella group (with which I sing!), arranged by Cliff Davis, another member of the group.  This song was performed at Disney World in March, 2017 by the Mount Vernon High School choir.
 
"Katydid Waltz" has been transcribed and arranged for a youth string orchestra in Toledo, and was performed there in the spring of 2017, as well as by the Knox County Symphony in 2018.
 
"The Hole in His Heart" video was filmed in the historic Woodward Opera House in Mount Vernon, Ohio. (This is how it looked prior to the restoration, by the way!)  I wrote the song in memory of Wesley Garrett.  Proceeds for performances of this song raise funds for mental health awareness at Black River Middle School in Sullivan, Ohio.
The video page has links to some videos from the Swannanoa Gathering (with John Gorka on harmony!!!!) as well as with the Firefly Band - songs we sang for First Graders at the YES! concert in the Memorial Theater this past October.   The song "All Living Things" is on the Plenty CD.  The live version in the video is unlike any I ever imagined!   In addition, the song "All Living Things" has been published in the latest issue of the Children's Music Network journal Pass It On! 
Songfest returns!!! Join me at Camp Nuhop for some fun sing-alongs with campers and counselors.